ASUS ROG Strix GL502VS, Notebook mumpuni buat gamers sejati – Apa sih yang diharapkan gamers ada di perangkat gamingnya? Dari hasil survey dan pengalaman sendiri, biasanya sih yang paling diharapkan itu perangkat anti lag dan grafis yang handal. Lag di sini bukan karena koneksi internet ya. Tapi karena low frame rate yang menyebabkan tampilan grafis game jadi patah-patah.
Duh, serius… yang begini itu menyebalkan. Menyerang musuh di Counter Strike ibarat melihat slide show yang setiap perpindahan framenya terlihat dengan jelas. Ini mau main game apa presentasi? Kalau mau presentasi, yang ada malah kita yang tertembak musuh duluan… 
Ini baru soal grafis, belum urusan performa yang stabil, prosesor yang tetap dingin meski digeber main game dan multitasking, kapasitas RAM yang besar, dan ruang penyimpanan pada perangkat. Nah, lho…
Mengingat banyaknya fitur yang diperlukan, perangkat gaming yang mumpuni itu biasanya berbadan bongsor. Malah banyak gamers yang mengandalkan PC gaming dibanding notebook agar bisa bermain game favoritnya.
Ini tentu saja menghambat mobilitas, masa iya kemana-mana mau gendong PC? Repot juga kan kalau misalnya pindah dinas atau kuliah di luar kota dan harus bawa-bawa PC. Ongkos kirim mahal lho… Belum lagi kalau tempat kost-nya sempit hihi.
Tapi tenang, buat Masbro, Dekbro, Mbaksis, Deksis, Akang-akang, Teteh-teteh, Adik-adik yang hobby main game dan mencari notebook gaming berbadan ramping, melengkapi jajaran produk Asus khusus untuk para gamer, Republic of Gamers, Asus sudah meluncurkan Asus ROG Strix GL502VS nih.
Mau tau apa saja keunggulan Asus ROG Strix GL502VS? Yuk, simak satu per satu…
Performa gaming yang gahar
Asus ROG Strix GL502VS dibekali prosesor Intel Core i7-6700HQ (6M Cache, up to 3.50GHz). Prosesor Intel Core i7 atau yang akrab disebut Skylake ini merupakan generasi ke-6 dengan spesifikasi Clock Speed 4GHz dengan kapasitas cache mem hingga 8Mb, 8 core HyperThreading, dan teknologi 14 nanometer supersaving. Dengan spesifikasi seperti ini, prosesor Intel Core i7 memiliki keunggulan hemat daya dengan kemampuan monster.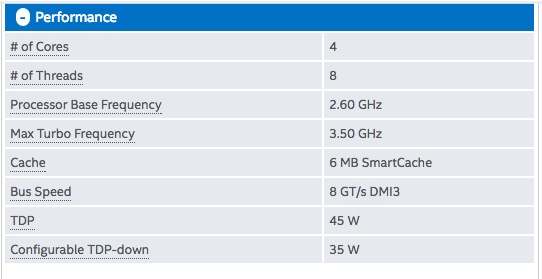 Ditemani  kartu grafis NVidia GeForce GTX 1070M 8G DDR 5, performa Asus ROG Gl 502VS menjadi semakin gahar.
Nah, buat yang sering gagal instal Windows di Asus ROG seri sebelumnya, Asus ROG GL502VS ini sudah dilengkapi dengan Windows 10 Home dengan berbagai keunggulan yang dimilikinya.
Chip Grafis Pascal
Melalui GL502VS, ASUS meningkatkan kembali performa kartu grafisnya melalui dukungan GTX1000 series, atau grafis yang dikenal dengan terknologi Nvidia Pascal. Sebagai informasi, grafis berbasis Pascal merupakan GPU pertama yang dibuat dengan 16 nanometer FinFET fabrication technology. Di dalamnya, terdapat 150 miliar transistor yang akan menghasilkan performa tertinggi namun di saat yang sama juga menawarkan efisiensi energi yang sangat baik untuk berbagai kebutuhan komputasi. Bahkan kekuatannya mampu mengalahkan Graphics Processing Unit (GPU) sebelumnya yakni GTX980 yang diperuntukkan bagi dekstop.
Badan Ramping, Desain Minimalis
Dilihat dari segi penampilan, Asus ROG Strix GL502VS seolah ingin menegaskan bahwa ini adalah notebook untuk gamer. Terlebih dengan adanya logo ROG dengan dua ornamen tambahan di kiri dan kanan.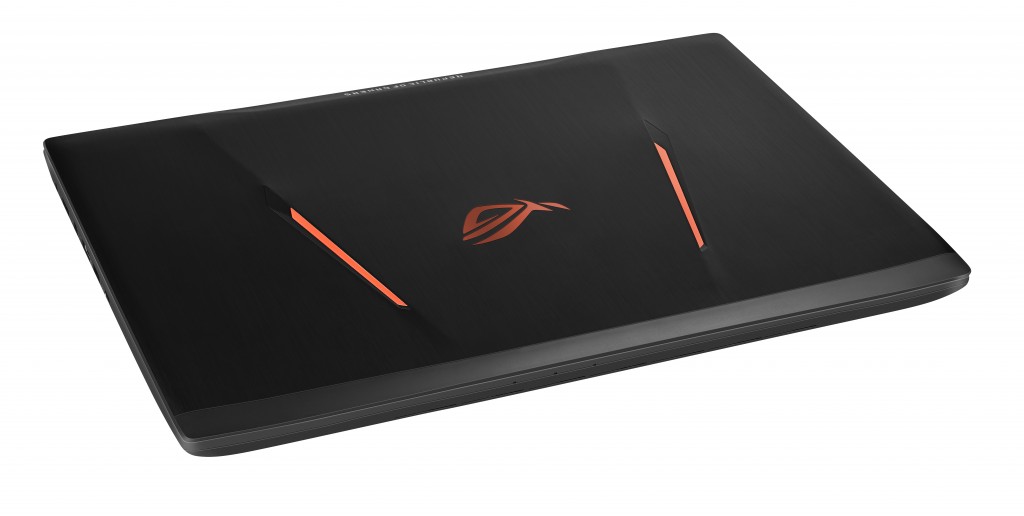 Sementara kalau dilihat ukurannya, ROG Strix GL502VS ini tidak seperti notebook gaming yang umumnya berbadan bongsor dan berat. Dengan ukuran layar 15.4 inchi, Asus ROG Strix GL502VS memiliki ketebalan hanya 2,3 cm dan berat sekitar 2,2 kg. Desain yang ramping dan minimalis ini membuat Asus ROG Strix GL502VS cukup mudah dibawa kemana-mana.
Asus ROG Strix GL502VS memiliki port yang lengkap,  3 x USB 3.0, 1 x USB 3.1 Type C yang menawarkan kecepatan transfer data hingga 20Gb per detik, 1 x HDMI, 1 x , Mini DisplayPort, RJ45 LAN, audio jack, dan SD card reader. Semua posisi port ini tidak mengganggu satu sama lain ketika digunakan secara bersamaan.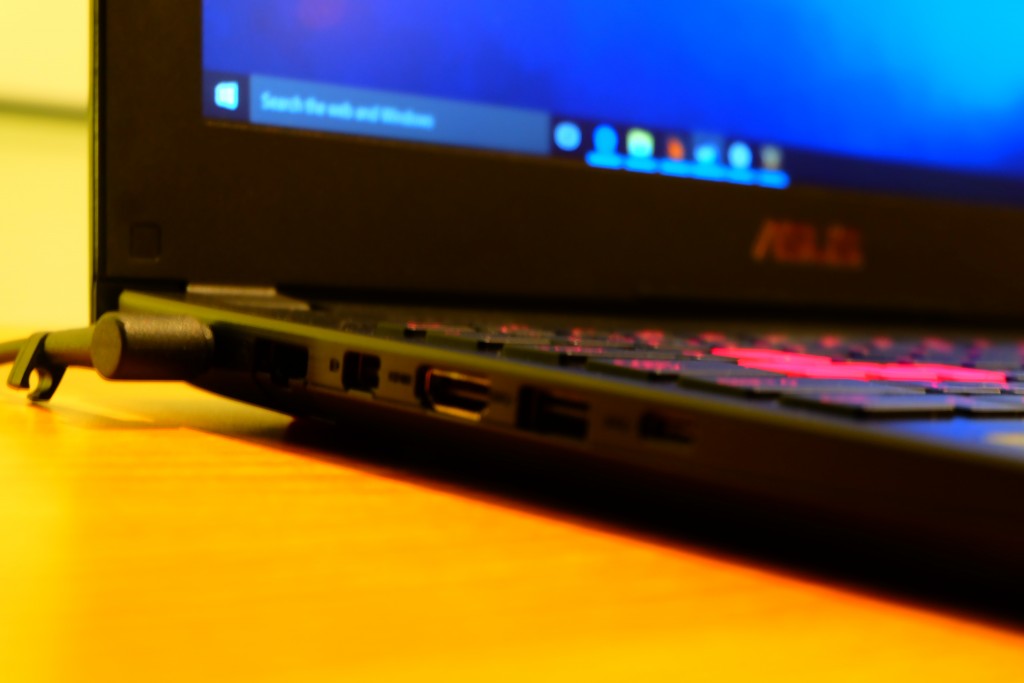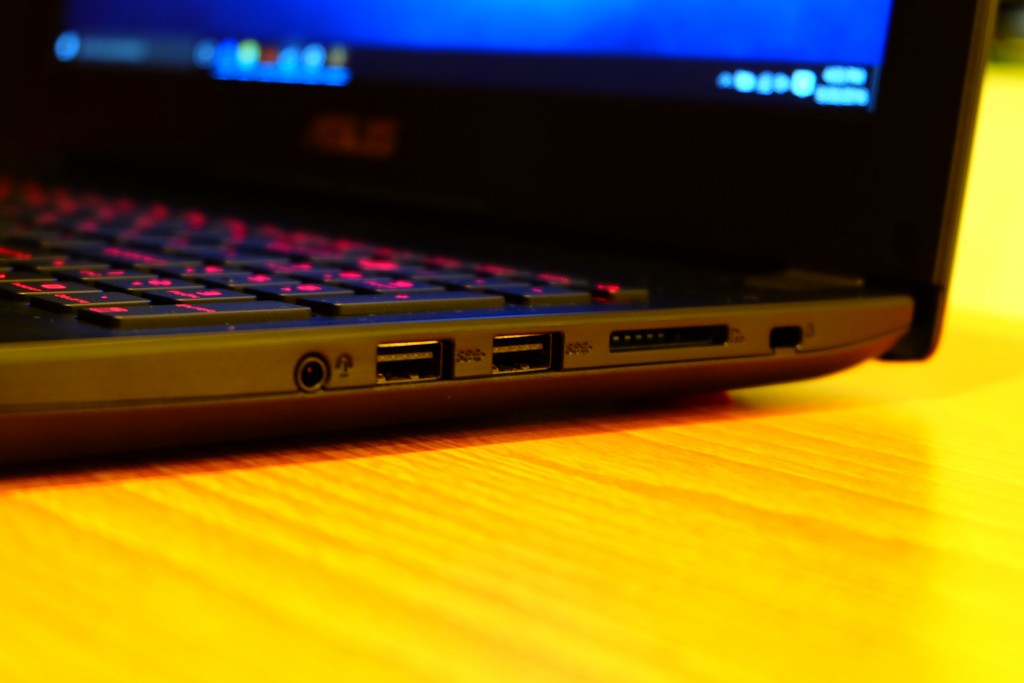 Keyboard nyaman untuk gaming maupun chatting 
Bagi para gamers, tombol WASD jadi semacam tombol andalan. Nah, karena ROG Strix GL502VS ini memang ditujukan untuk para gamer, tombol WASD di seri ASUS yang ini hadir dengan warna yang berbeda dibanding tombol lainnya.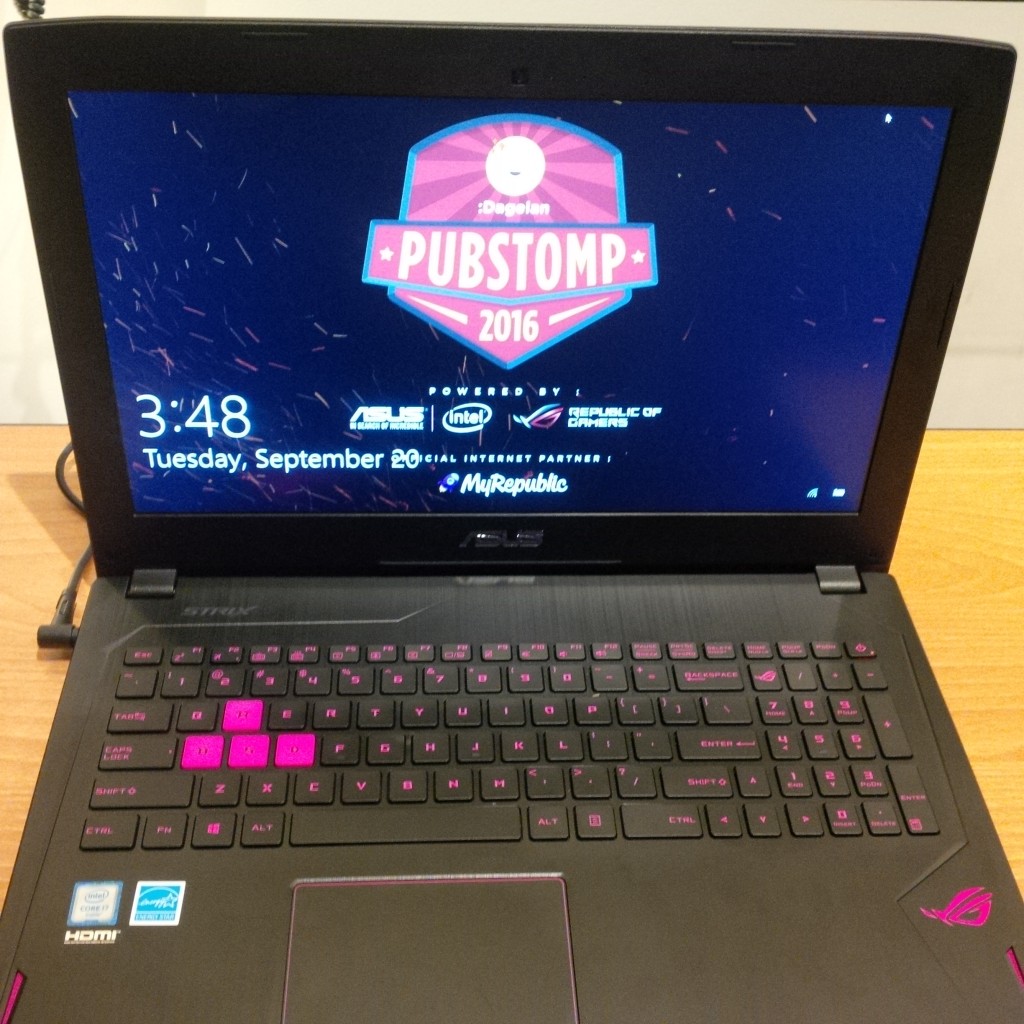 Asus ROG Strix GL502VS juga dilengkapi 30 keys anti-ghosting keyboard. Tahu sendiri kan kalau main game itu seringkali harus menekan beberapa kombinasi tombol, nah dengan fitur ini kita bisa memainkan game sambil menekan berbagai kombinasi tombol di keyboard sekaligus untuk menjalankan instruksi atau melakukan gerakan tertentu di dalam game tanpa masalah.
Salah satu kendala yang biasa dihadapi oleh notebook tipis dan ukurannya tidak terlalu lebar adalah jarak antar keyboard yang sempit dan kedalaman keyboard saat ditekan. Kalau kata orang Sunda mah padukdek hehe… dan seringkali membuat keyboard tidak nyaman digunakan. Bahkan saat mengetik pun bisa typo berkali-kali. Tapi Asus ROG Strix GL502VS memiliki keyboard chiclet gaming yang didesain secara khusus dengan "red-backlit scissor – switch keys".
Chiclet Keyboard ini memiliki jarak lebih besar di antara tutsnya. Pada Asus ROG Strix GL502VS, desain ini memberikan Travel Distance sebesar 1.6 mm yang membuat keyboard nyaman digunakan, feedback yang diberikan oleh keyboard juga enak, jadi kita bisa mengetik dengan kecepatan tinggi tanpa takut typo.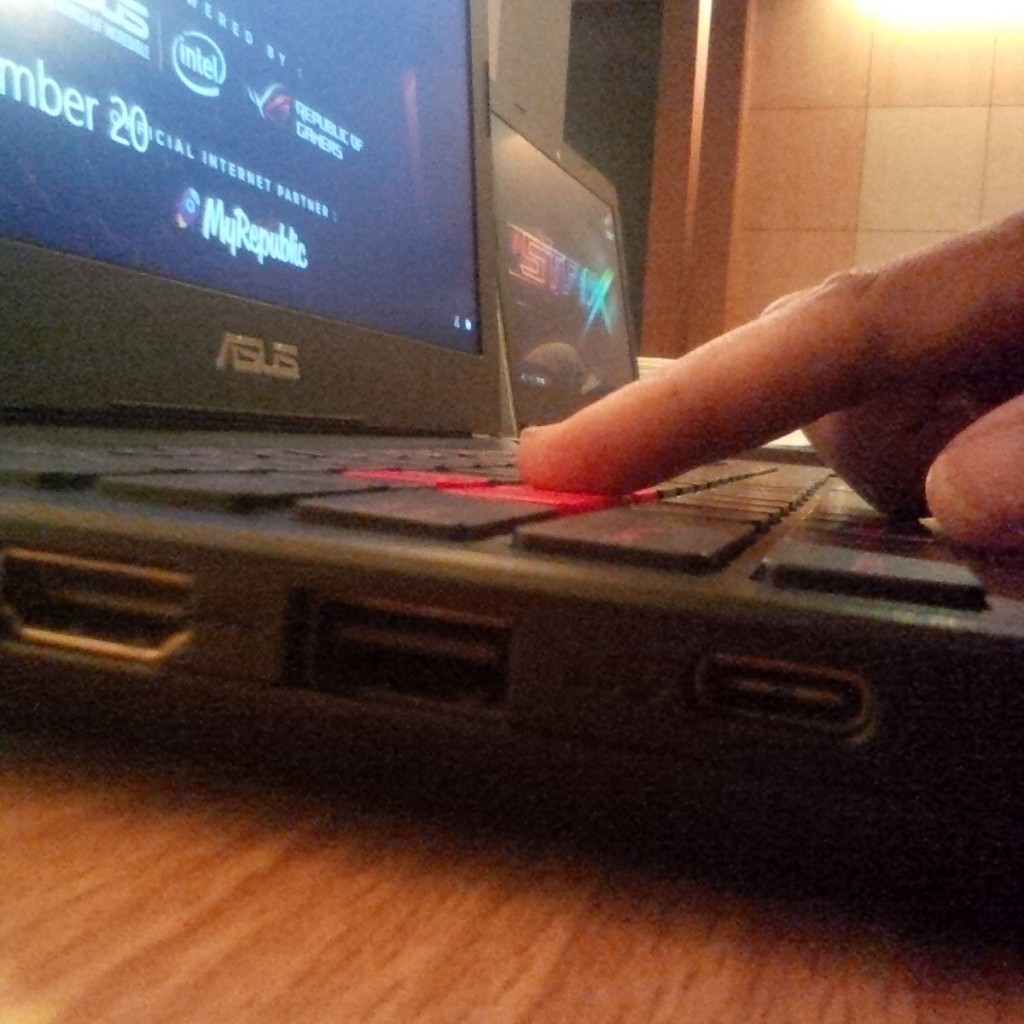 Sementara Touchpadnya sendiri cukup lebar dengan dua tombol di bagian bawah. Meski tidak ada tombol khusus yang berfungsi sebagai shortcut untuk menonaktifkan touchpad ketika bermain gamer, namun ada tombol shortcut untuk masuk ke ROG Gaming Center.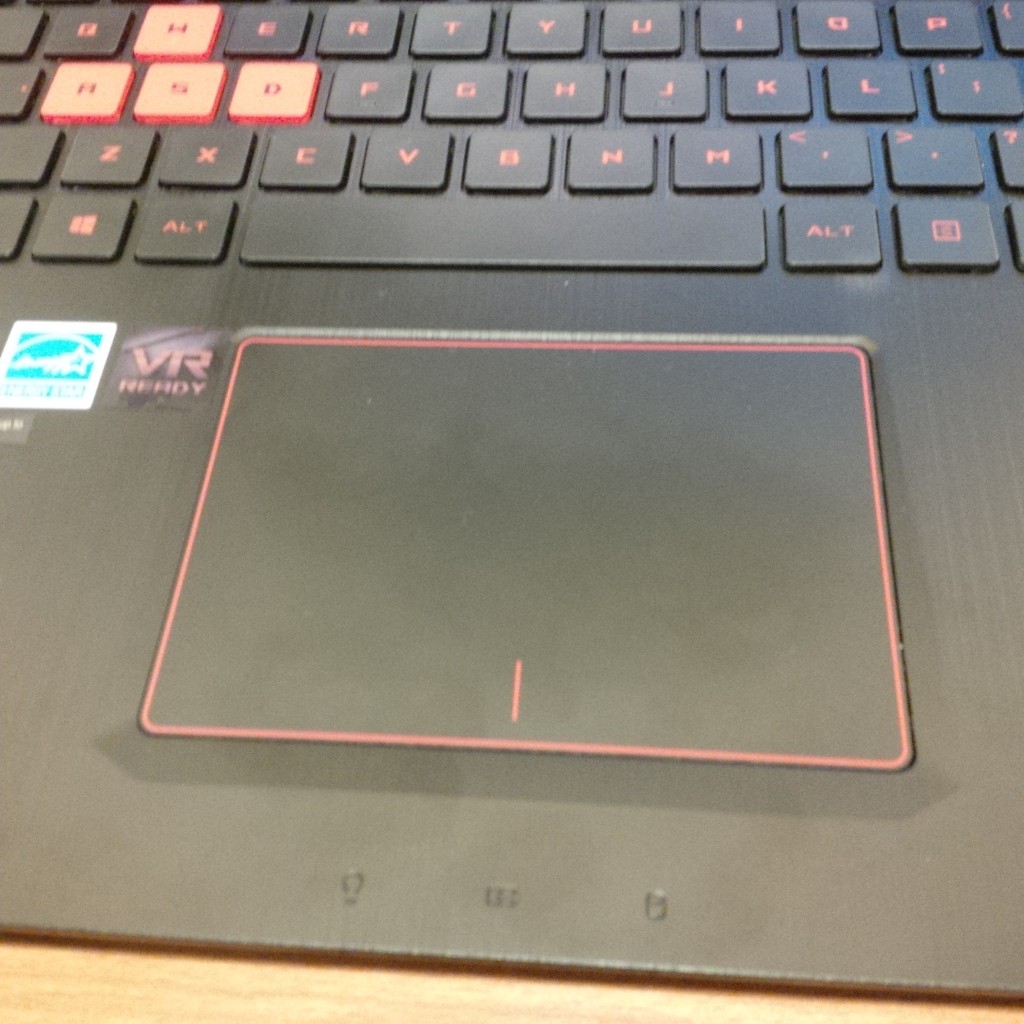 Layar lebar, resolusi tinggi
Asus ROG Strix GL502VS memiliki layar  berukuran 15,6 inci dengan teknologi IPS yang mampu memberikan pandangan luas hingga 178 derajat. Dengan display yang dilapisi matte panel dan mempunyai resolusi Full HD dengan aspect ratio 16:9 yang telah mendukung G-Sync, berbagai game masa kini bisa dijalankan dengan mudah di Asus ROG GL502VS.

Ketajaman layar Asus ROG GL502VS ini tidak hanya memanjakan para gamers, tapi juga membantu pengguna yang memerlukan tampilan gambar dengan resolusi yang tinggi, seperti desainer grafis atau vlogger.
Sementara untuk sektor audio, ROG Strix GL502VS didukung Dual Array Microphone, Bang & Olufsen ICEpower with SonicMaster yang diklaim mampu memberikan pengalaman audio gaming yang maksimal.

Kapasitas Penyimpanan Besar
Performa gahar tanpa kapasitas penyimpanan yang besar sepertinya jadi sia-sia ya. Tapi tenang, untuk urusan storage, Asus ROG GL502VS memiliki media penyimpanan yang mencapai 1000 GB dengan harddisk berkecepatan 7200 rpm. Storage ini masih ditambah dengan SSD berukuran 256 GB yang menawarkan kecepatan read/write yang lebih tinggi.
Paduan ini membuat Asus ROG GL502VS mampu memberikan performa yang cepat sekaligus ruang yang sangat lega untuk menyimpan semua data.
Soal penanganan suhu panas, Asus ROG Strix GL502VS dilengkapi teknologi Hyper Cool duo-copper thermal solution yang diletakkan pada CPU dan GPU untukmenghasilkan pendinginan maksimal. Selain itu, ASUS juga menyertakan fitur IceCool Technology yang menjaga bagian notebook yang tersentuh telapak tangan tetap dingin.
Baterai 4-Cell, 4.120mAh
Asus ROG Strix GL502VS dibekali baterai 4-cell,  yang diklaim mampu memberikan daya hingga 6 jam ketika browsing di dunia maya. Sedangkan ketika digunakan untuk bermain game, Asus ROG Strix GL502VS mampu menyala hingga 3 jam.
Uji Performa ASUS ROG Strix GL502VS
Di bawah ini ada hasil uji performa ASUS ROG Strix GL502VS dengan berbagai benchmark
Spesifikasi Lengkap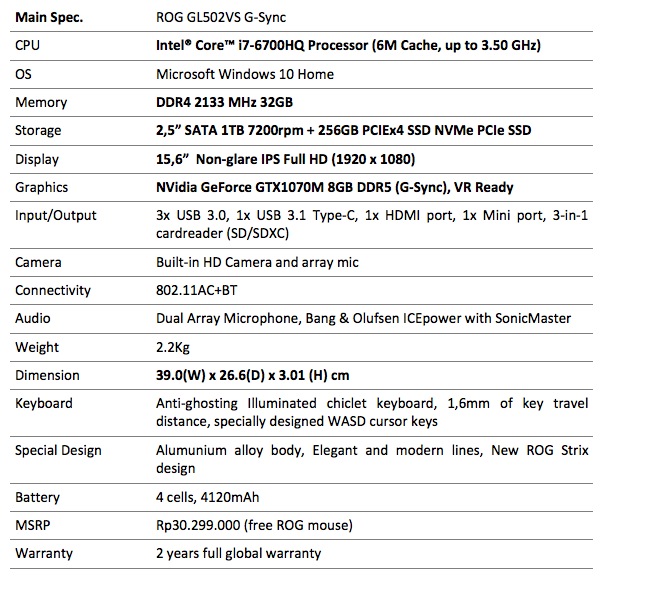 Kesimpulan
Dari uji performa dan berbagai fitur yang ditawarkan oleh Asus ROG Strix GL502VS, terbukti bahwa notebook gaming tidak harus bongsor dan berat. Asus ROG GL502VL merupakan perangkat gaming yang portable, dengan desain yang ramping dan menawan, namun tetap menawarkan performa yang bisa diandalkan.
Bukan sekedar notebook gaming, ASUS ROG Strix GL502VS yang ditawarkan dengan harga Rp. 30.299.000,- ini juga investasi masa depan. Coba saja lihat, apa lagi yang mau ditambah dengan fitur-fitur lengkap seperti di atas?