Pernah kebayang gak seberapa maksimal smartphone yang kita punya bisa kita gunakan? Buat posting di blog? Buat foto-foto? Buat bikin Vlog? Ah, itu mah sudah biasa lah ya. Apalagi kalau teman-teman juga menyimak canggihnya Zenfone 3 yang memang sesuai slogannya, Built for Photography.
Nah, kalau membuat Vlog bisa dianggap sudah biasa, kali ini ASUS menawarkan yang luar biasa.
Jadi, ASUS mengundang fans dari Indonesia dan beberapa negara terpilih nih untuk mengontribusikan ide yang lucu dan menghibur yang nantinya akan dikumpulkan untuk produksi 3 seri video iklan yang menyoroti ZenFone 3 yang baru. Yup. Teman-teman bisa jadi sutradara iklan Zenfone 3 yang baru nih.
Sudah kebayang seperti apa? Coba lihat dulu video di bawah ini…
Iklan The Alien and the Dinosaur di atas dibuat berdasarkan ide-ide yang berasal dari warga New York yang di-interview secara acak.
Nah, lewat Kontes "Directed by You" yang diadakan oleh ASUS, teman-teman juga bisa nih menuangkan cerita sesuai imajinasi teman-teman. Yaaaa… misalnya seperti cerita di iklan tadi, tiba-tiba ada salju di pantai. Ada Dinosaurus yang joged-joged… Bebas.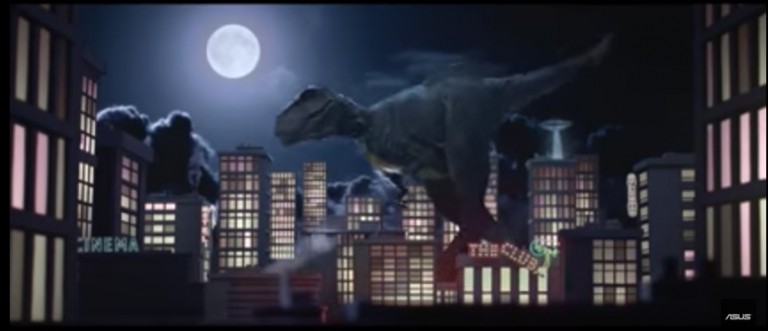 Teman-teman tinggal mengirimkan cerita singkat yang nantinya akan disusun menjadi sebuah alur cerita lengkap untuk 3 video iklan. Ketiga video tersebut akan diproduksi oleh kelompok pembuat film dan artis-artis profesional serta direkam secara keseluruhan dengan menggunakan… tentu saja, ZenFone 3. Hadiahnya apa nih? Hadiahnya ya tentu saja  ZenFone 3 juga.
Mau ikutan donk. Gimana caranya?
Partisipan: Untuk membantu menciptakan video iklan seri ZenFone 3 terbaru, partisipan dari Indonesia dan negara lain yang terpilih disarankan untuk mengikuti instruksi ini:

Mengunjungi website "Directed By You" di asus.com/event/directedbyyou/id
Untuk periode 2 minggu pertama, dimulai dari 15 November 2016, partisipan bisa mengirimkan ide cerita dengan 2 kondisi: cerita harus maksimal 200 kata dan memiliki kata kunci yang berhubungan dengan topik mingguan.
Topik Mingguan: Setiap video iklan dalam seri ini akan fokus ke topik kunci sehubungan dengan ZenFone 3 dan akan terdiri dari cerita yang dikontribusikan setiap minggu. 2 topik itu adalah entertainment dan gaming.
Hadiah

Hadiah harian: 1 buah ZenFone 3 akan diberikan sebagai hadiah harian untuk kategori best entry of the day
Video Iklan dari Pengguna: Sebagai tambahan untuk memenangkan ZenFone 3, partisipan yang mengirimkan the best entries of the day akan dipakai idenya sebagai alur cerita dan akan dipakai untuk plot di dalam video iklan yang akan dibuat oleh kelompok berpengaruh di mana itu bisa secara langsung atau tindakan di dalamnya.
Ide dari Fans dijadikan sebagai kenyataan dengan ZenFone 3
Untuk membawa ide fans menjadi kenyataan, 3 tim dengan profesionalitas, pengalaman dan berpengaruh di industri kreatif internasional akan mendedikasikan talenta mereka untuk memproduksi video final setiap minggunya. Sutradara, artis dan aktor ini terpilih berdasarkan pengalaman mereka untuk setiap topik yang difokuskan setiap minggunya.
Minggu 1: Entertainment – Minggu pertama, dengan tema tentang video Entertainment, akan diciptakan oleh grup sutradara, MANSON yang berlokasi di Barcelona dengan pemeran akting dari komedian Prancis Dycosh. Spesialisasi MANSON ada di animasi dan video live action, dan group ini memiliki daftar klien yang terkenal termasuk produsen vodka terkemukan Absolut, desainer Inggris terkenal Alexander McQueen, internet service company Google Play, dan Seat, produsen otomotif Spanyol.
Video iklan akan dikolaborasikan dengan Dycosh yang memiliki kanal YouTube yang sudah mencapai 11 juta penonton. Untuk mengetahui lebih lanjut tentang mereka, silahkan mengunjungi website mereka:
MANSON Studios: www.manson.st
Dycosh: www.Dycosh.com / www.youtube.com/user/dycoshtv
 Minggu 2: Gaming – Minggu kedua dan terakhir, fokus tentang video Gaming akan diciptakan oleh pemenang beberapa award kategori iklan di Thailand dengan sutradara Jan Mantanakorn. Sutradara ini terkenal dalam industri plot-driven dan iklan storytelling. Kliennya yang dikenal secara umum termasuk Honda, Shiseido dan Unilever. Untuk mengetahui lebih lanjut, peserta bisa mengunjungi website: Jan Mantanakorn: www.janmantanakorn.com
Yang belum punya Zenfone 3 boleh ikut? Ya boleh atuh… makanya ayo ikutan dan kirim ide kreatif teman-teman biar bisa punya Zenfone 3.
Yuk ah… saya mau tanya Ceuceu, Teteh, sama Ade dulu… kira-kira ide cerita mereka tentang Zenfone 3 seperti apa ya?