"Atap aja kalau bocor pasti nyebelin. Ini tabungan! Uang yang susah payah kita kumpulin… Eeeeeh, ikut-ikutan bocor. Uh, nyebelin banget!!!"
Sebenarnya ini alasan saya yang agak dibuat-buat, kenapa akhirnya saya (dan mungkin juga sebagian orang yang lain) tidak mau menabung. Kenapa? Soalnya seringkali uang tabungan saya di bank yang tidak seberapa itu malah berkurang karena adanya biaya administrasi.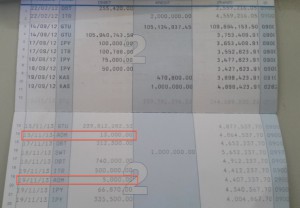 Memang sih, biaya administrasinya jauh lebih kecil kalau dibandingkan dengan bunga yang diperoleh dari bank. Tapi semakin besar uang yang kita tabung, tentunya biaya administrasi yang dipotong dari tabungan juga semakin besar. Buat saya yang perhitungan banget, bukankah lebih baik dan lebih menguntungkan kalau saja uang saya tetap bertambah dan tidak ada yang namanya biaya administrasi? Belum lagi, sebetulnya suku bunga tabungan itu kecil. Untuk tabungan dengan besar > = Rp 1 juta sampai Rp 50 juta, tabungan kita hanya mendapatkan suku bunga 0,9 (% pa).
Selain soal potongan biaya administrasi, saya juga punya masalah lain dengan tabungan. Sudah bukan rahasia lagi kalau banyak orang yang mengeluh karena kesulitan menabung, padahal penghasilan mereka lebih dari cukup. Nah, saya sendiri seringkali mengalami ini. Merasa punya uang lebih dan belum ada keperluan penting saat ini, akhirnya uangnya malah saya tabungkan di mall. Eh, ini sih shopping, bukan nabung hahaha
Belum lagi urusan halal haram bunga bank yang juga saya jadikan pertimbangan. Seperti yang kita tahu, menurut agama yang saya anut, bunga bank ini termasuk haram. Soal ekonomi syariah yang kemudian sekarang sedang berkembang di Indonesia pun, kurang bisa diandalkan. Tapi saya tidak akan membahas ini lebih jauh, karena jujur saja pemahaman saya tentang hal ini masih kurang.
Karena alasan-alasan itulah akhirnya uang yang seharusnya bisa ditabung malah dialokasikan untuk keperluan lain yang sebetulnya gak perlu-perlu amat. Padahal saya sangat tahu, kalau menabung itu penting buat masa depan saya dan juga masa depan keluarga saya.
Masih belum tahu, kenapa menabung itu penting?
Alasan utama kenapa menabung itu penting tentu saja demi masa depan yang lebih baik. Tidak sedikit orang yang memiliki prinsip, "Apa yang didapatkan sekarang, habiskan sekarang. Bagaimana dengan besok? Ya besok lagi saja!"
Padahal siapa yang bisa memprediksi masa depan? Tentu saja tidak ada.
Sekarang coba kita lihat keadaan sekitar 20 tahun yang lalu. Saat itu dengan uang senilai Rp. 200,- kita sudah bisa membeli bakso komplit. Saya masih sangat ingat lagu Tukang Bakso yang dibawakan oleh Melissa, penyanyi cilik yang tenar pada masanya (ketauan banget sih tuanya 😀)
Abang tukang bakso, mari-mari sini aku mau beli… Abang tukang bakso, cepat donk kemari sudah tak tahan lagi… Satu mangkok saja, dua ratus perak yang banyak baksonya…
Anak-anak saya juga tahu lagu ini, dan mereka terheran-heran.
"Mah, bakso apaan tuh koq cuma 200-an???"
Ya, sekarang harga bakso termurah di sekitar rumah saya Rp. 8.000,- per mangkok. Dalam waktu 20 tahun harga bakso melejit menjadi 40x atau 4000%. Bayangkan jatuhnya nilai mata uang Rupiah, lalu bayangkan bagaimana dengan 20 tahun yang akan datang? Dengan uang Rp. 8.000,- apa yang bisa kita dapatkan?
Ini baru soal bakso, belum menyangkut kebutuhan premier. Bagaimana dengan urusan sandang, pangan, papan, kesehatan, pendidikan, dan juga biaya tidak terduga di masa depan? Membandingkan nilai uang 20 tahun yang lalu dengan saat ini dan kemudian dengan masa depan? Hiy… Sepertinya menyeramkan ya!
Agar kita bisa mendapatkan masa depan yang lebih baik, tentunya juga harus dipersiapkan dengan sebaik-baiknya, bukan hanya ditunggu.
Mempersiapkan masa depan salah satunya bisa saja dengan menabung. Sayangnya menabung tidak selalu bisa mengejar laju inflasi. Jadi meski dengan menabung uang kita bertambah, tapi seiring berjalannya waktu, nilai uang yang kita tabung justru malah turun tergerus inflasi.
Berdasarkan data dari Bank Indonesia, tingkat inflasi dari tahun 2011 sampai tahun 2013 cenderung naik. Tahun 2013 sendiri tingkat inflasi berada di angka ±8%.
"Bila anda menabung Rp 100 juta sekarang dengan tingkat inflasi 8 persen seperti tahun lalu maka nilai uang anda dalam 5 tahun menyusut sebesar 45 persen atau tinggal Rp 55 juta rupiah," kata Victor Irawan, Komisioner PT PLI.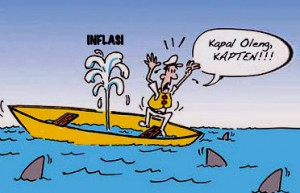 Sungguh nilai uang yang bukan sedikit bagi saya. Bertambah lengkaplah alasan kenapa saya tidak mau menabung.
Terus kalau bukan ditabungkan, gimana caranya agar jumlah dan nilai uang kita bisa bertambah?
Investasi adalah jawaban yang pasti. Secara sederhana dapat dikatakan investasi adalah cara menabung yang lebih cerdas dan bijak, dengan tujuan utama mengalahkan laju inflasi. Bagi kebanyakan orang investasi dilakukan untuk mencapai tujuan finansial yang bersifat jangka panjang. Contoh investasi adalah pembelian berupa aset finansial seperti obligasi, saham, asuransi. Dapat juga pembelian berupa barang seperti mobil atau properti seperti rumah, apartemen atau tanah.
Kondisi ekonomi saat ini sedang tidak menentu. Hal ini dapat terlihat dari melemahnya nilai tukar rupiah terhadap mata uang dolar Amerika Serikat (USD) dan adanya kecenderungan pasar yang menanti hasil Pemilu 2014. Sementara itu di pasar komoditi, nilai emas mengalami penurunan yang cukup signifikan dari US$ 1900 per troy ons menjadi hanya sekitar US$ 1200 saat ini. Sebaliknya, sejumlah pakar memprediksi bahwa investasi yang akan tetap menjadi pilihan para investor di tahun 2014 adalah properti. Bahkan, seorang pakar properti dalam bukunya "Sunrise Property" mengatakan bahwa 2014 adalah tahun booming property. (Sumber : Pikiran Rakyat)
Prioritas Land Indonesia, sebuah perusahaan properti yang enerjik mengeluarkan gagasan untuk mereka yang berniat untuk menabung sambil berinvestasi tanpa ancaman resiko rugi. Gagasan itu adalah Gerakan Menabung Properti.
Gerakan Menabung Properti ini dilakukan untuk mengedukasi masyarakat tentang cara menyimpan dana dengan cerdas agar nilainya tidak berkurang meski terjadi inflasi.
Sebagai ilustrasi, bila saat ini membeli properti seharga Rp 300 juta, kenaikan harga setiap tahunnya sebesar tiga kali inflasi. Jadi, jika inflasi 8%, maka dalam  lima tahun mendatang nilai propertinya akan menjadi sekitar Rp 660 juta (dengan penghitungan, inflasi 8% x 3 x 5 x Rp 300 juta). Artinya nilai tabungan bukannnya berkurang, tetapi bertambah.
Tapi kan properti itu mahal, nabungnya juga susah donk?
Nah, ini yang jadi ganjalan saya selama ini. Ingin sih memiliki properti sebagai tabungan masa depan. Tapi kan properti itu gak ada yang murah. Apalagi properti yang terletak di lokasi strategis. Pastinya harganya juga selangit.
Untuk bisa memiliki satu unit apartemen di kawasan Serpong setidaknya kita harus mengeluarkan uang sebesar Rp. 300 juta. Kalau mau dicicil, setidaknya harus punya uang muka 60-100 juta. Yassalam saja deh kalau begitu.
Untungnya Gerakan Menabung Properti yang digagas oleh Prioritas Land Indonesia ini bukan hanya sekedar gagasan. Prioritas Land Indonesia juga menyediakan fasilitasnya, yaitu K2 Park, apartemen mewah di Gading Serpong.
Mengenal K2 Park Lebih Dekat
Sukses dengan proyek-proyeknya terdahulu seperti  Majestic Point Villas di Nusa Dua, Bali, Majestic Point Apartment di Serpong, dan juga Majestic Water Village di Uluwatu, Bali, dan juga  Indigo @ Bekasi Apartment, Prioritas Land Indonesia kembali hadir dengan proyeknya yang prestisius.
Superblok K2 Park adalah proyek terbaru milik Prioritas Land Indonesia yang memiliki desain unik dan menarik. Adalah Ark Desain yang merancang K2 Park dengan inspirasi Gunung Zhang Jia Jie, Hunan, China, sebuah gunung yang mirip dengan latar pembuatan film 3D Avatar.
Presiden Direktur
Prioritas Land Indonesia
, Marcellus Chandra mengatakan proyek yang dikembangkan memang dirancang secara arsitektur yang unik dan menarik. "
K2 Park
memiliki lingkungan yang mendukung gaya hidup kaum muda, keluarga muda, ataupun mahasiswa sehingga menciptakan symphony yang harmonis."
Hal ini sesuai dengan konsep The Symphony of Living yang diusung oleh K2 Park.
K2 Park merupakan sebuah kawasan mixed-use development yang hadir dengan konsep sunken plaza dengan pusat perbelanjaan bawah tanah.
Residensial diatas lahan seluas 3 hektar. Dengan total lebih dari 2500 unit dirancang untuk mendukung kelestarian lingkungan dengan dibuatnya barisan water pods menyerupai pepohonan di sepanjang jalur pedestrian hijau, lengkap dengan fasilitas-fasilitas mewah dan berkualitas.
K2 Park berada di lokasi yang strategis, dikelilingi pemukiman elit, area komersial dan juga mall, serta memiliki akses yang mudah ke jalan tol.
K2 Park
 memiliki 4 tower apartemen yang berisi dari 2.500 unit, 1 tower perkantoran hibrid (jual dan sewa) education tower, dan 1 tower hotel.
4 tower apartemen K2 Park tersebut adalah sebagai berikut:
K2 Park juga dilengkapi dengan berbagai fasilitas, diantaranya :

Educational complex (sekolah sekretaris, sekolah musik, dan sekolah public relation) / office tower,
Fasilitas pendukung untuk para murid di dalam kompleks (cafe, mini market, salon, restoran),
Lifestyle Sunken Plaza Mall K2 park,
Hotel K2 Park,
Elevated swimming pool,
Water pods ( Berfungsi sebagai Artificial Tree (Pohon buatan) yang akan menampung air hujan, juga sekaligus menjadi peneduh dari terik matahari ),
Shuttle bus ke area hunian sekitar,
Pedestrian walk.
Biar lebih jelas, keunikan K2 Park ini bisa kita simak di video berikut ini :

Keuntungan Menabung Properti di K2 Park

Menabung properti di K2 Park menghasilkan banyak keuntungan sekaligus yang tidak dimiliki oleh instrumen investasi atau tabungan lainnya.
Sebelum bicara keuntungan di masa depan, K2 Park sudah menawarkan keuntungan yang langsung diperoleh begitu konsumen memutuskan membeli unit di K2 Park, yaitu:
Menurut Iwan Purnama, Direktur Marketing PT PLI, harga apartamen di daerah Gading Serpong saat ini sudah mencapai Rp 17 juta –  Rp 20 juta per meter persegi. Namun untuk proyek K2 Park, pihaknya menawarkan harga perdana Rp 11 juta per meter persegi.
Konsumen cukup menabungkan uang sebesar Rp6 juta  per bulan, maka uang akan aman dari inflasi. Selain itu, dengan membeli apartemen K2 Park, konsumen juga diberi kesempatan untuk memiliki sebuah rumah secara gratis," pungkas Iwan
Pembeli bisa membayar uang muka (down payment) sekarang, kemudian libur bayar selama tiga tahun dan pelunasan dapat dilakukan pada bulan ke-37.
Selain berada di lokasi yang sangat strategis dan berada di kawasan yang sudah berkembang pesat, pembeli juga memiliki kesempatan mendapatkan promo "Beli apartemen bisa dapat rumah"
Sekarang mari kita bicarakan masa depan yang lebih pasti bila kita mengikuti Gerakan Menabung Properti di K2 Park ini.
Menurut pengamat properti, Ali Tranghanda, di antara sejumlah kawasan penyangga Ibu Kota seperti Bekasi, Bogor, dan Serpong, kawasan Serpong saat ini menjadi kawasan penyangga yang paling menjadi primadona. Hal ini terjadi karena Serpong memiliki akses tol yang banyak dibanding Bogor dan Bekasi. Akibatnya harga perumahan di Serpong pun ikut naik. Tingginya animo pembeli yang kebanyakan end user membuat harga landed house di kawasan Serpong berada di kisaran Rp 1 miliar ke atas. Angka ini sudah terlalu tinggi dibandingkan dengan Bogor dan Bekasi. Akibatnya, masyarakat pun bertransformasi memilih untuk tinggal di apartemen. (Sumber : Okezone)
K2 Park sendiri berada di area yang berkembang sangat pesat dan dikelilingi pemukiman elit, di mana harga rata-rata tanah mencapai 15 – 30 juta per m2, dengan harga rumah untuk luas 240 m2 rata-rata Rp 3.8 M. Harga properti di Serpong dalam 5 tahun sejak 2007 meningkat signifikan, dari harga rumah Rp 1 M di 2007 sekarang menjadi Rp 3.8M.
Harga K2 Park setelah jadi diperkirakan mengalami potensi kenaikan sebesar 70-100% dalam 3-4 tahun. Wow… jelas ini adalah tabungan yang sangat menguntungkan!
Value yang ditawarkan oleh K2 Park tidak cukup sampai di sini, karena  bila unit apartemen yang kita miliki disewakan maka kita akan mendapatkan keuntungan dari harga sewa apartemen.
Gagasan Prioritas Land Indonesia ini memang cerdas. Kekurangan investasi properti karena likuiditasnya yang rendah mampu diminimalisir dengan nilai harga sewa yang tinggi, mengingat K2 Park berada di lokasi yang sangat strategis. Tidak heran kalau Prioritas Land Indonesia kembali mendulang sukses di proyek teranyarnya ini.
Kesuksesan Prioritas Land Indonesia menggagas Gerakan Menabung Properti ini terbukti dengan terjualnya 1 Tower Arkose yang memiliki 600 unit apartemen hanya dalam waktu 2 pekan!
Masih mau ketinggalan menyiapkan masa depan yang pasti lebih baik?? Jangan sampai ketinggalan lagi ah! Siap-siap yuk menyambut pre-launching 3 Tower K2 Park lain yang akan segera dipasarkan dalam waktu dekat ini.
Untuk mendapatkan informasi lebih banyak tentang proyek-proyek Prioritas Land Indonesia, silahkan kunjungi websitenya di sini, atau fanspagenya di Official Prioritas Land Indonesia. Kalau mau lebih jelas lagi, datang langsung ke kantornya di sini :
PT. PRIORITAS LAND INDONESIA Ruko Paramount Blitz Jln Raya Kelapa Dua Blok A no 20 Gading Serpong – Tangerang 15810 Telp : (021) 36000 701 – 702 Fax : (021) 21 36000 703

Referensi :
http://www.okezone.com
http://www.pikiran-rakyat.com
http://www.tribunnews.com
Disclaimer : Tulisan ini diikutsertakan pada "BLOG CONTEST PRIORITAS LAND INDONESIA Tahap 4″. Isi di luar tanggung jawab PT Prioritas Land Indonesia. Mau ikutan? Baca Syarat & Ketentuan di sini.